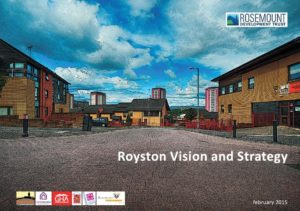 The Royston Community Vision and Strategic Plan is part of the ongoing community engagement and consultation around the development and regeneration of Royston which is being carried out by the Royston Strategy Group, and led by Rosemount Development Trust.
The work looked at how Royston could progress as a neighbourhood over the next 10-20 years, building on the achievements of all Royston's local organisations, several of which celebrated their 25th anniversary in 2014.
An initial consultation and engagement stage was held during the summer of 2014, with follow up sessions helping to build up this Vision and Action Plan.
Kevin Murray Associates who carried out the community consultation presented the Vision and Action Plan, its objectives which were drawn from the consultation, and the proposed next steps to the Royston community in December 2014.
A Sign-Up Ceremony also took place for the local community and the Royston Strategy Group partners and stakeholders to show their commitment to ensuring the shared vision for the regeneration of Royston is delivered.
Kevin Murray Associates were supported in the community engagement and planning by Willie Miller Urban Design who helped with the urban design and development and Benton Scott Simmons who helped with the landscape and environmental areas of the Vision and Action Plan.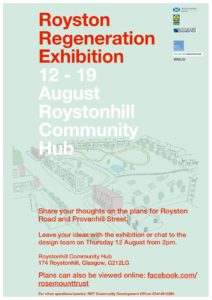 HAVE YOUR SAY ON REGENERATION PLANS FOR ROYSTON! Rosemount Development Trust are working with Kevin Murray Associates
Read More »
Let your voice be heard – complete this survey on Provanhill Street & Royston Road Regeneration
Read More »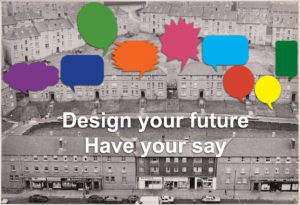 We are delighted to have secured £40,000 from GCC's 'Vacant and derelict Land' Fund. The funds,
Read More »