The Royston Strategy Group was set up in 2014 and is led by Rosemount Development Trust.
The Strategy Group's purpose is to provide a co-ordinated, strategic approach by partners and stakeholders to ensure that the regeneration of the Royston area is continued to completion.
Kevin Murray Associates were commissioned to carry out a community consultation.
A report showing the vision and strategy for the regeneration of Royston was created from that community consultation. Download the report here
Partners and stakeholders:
Blochairn Housing Association
Copperworks Housing Co-operative
Councillor Anthony Carroll
Councillor Allan Casey
Councillor Elaine McDougall
Glasgow City Council (Departments and ALEOs representing the Council include Development & Regeneration Services, Education Services and Jobs & Business Glasgow)
Glasgow Housing Association (Royston Corridor Homes)
MP Anne McLaughlin
MSP Bob Doris
North Glasgow Food Initiative
North Glasgow Healthy Living Community
Rosemount Development Trust
Rosemount Lifelong Learning
Royston Youth Action
Spire View Housing Association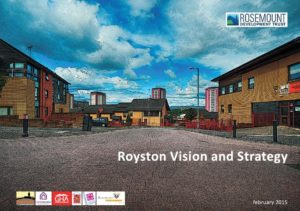 The Royston Community Vision and Strategic Plan is part of the ongoing community engagement and consultation
Read More »